10:57 AM
MsKathy , Posted in
Awards
,
Bella/Edward/Jasper
,
Edward/Jasper
,
Slash
,
The Trip Home
,
1 Comment
I am so amazed and deeply humbled to have won three Golden Lemon Awards. Here are the banners, with the winning passages from the stories below.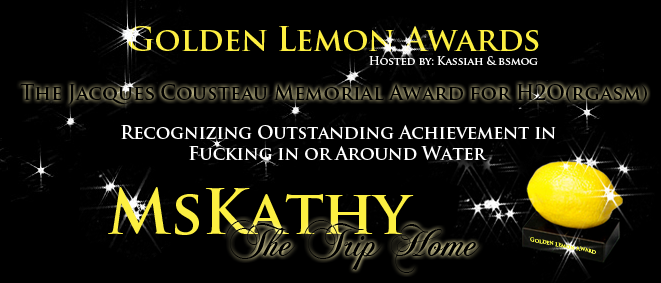 The Trip Home, Chapter 6 by MsKathy
"Come on, boys, let's get wet," I giggled.

Jasper tugged at my shirt while Edward unbuttoned my jeans. I was left standing there in my cream colored lace bra and panty set, practically panting. They each took a step back to look at me before they continued. When they moved forward to finish undressing me, my hands went to Edward's pants. I made quick work of them, unbuttoning and removing them in one swift movement. I stopped only to place a small kiss on the bulge in his boxers, before tugging those down his legs as well.

I undid Jasper's pants and laughed when I realized he was going commando.

"No boxers, Jazz? I like it..."

He just smiled and blushed a light shade of pink. Once his pants hit the floor and he stepped out, I placed one open-mouthed, wet kiss at the base of his erection, just as I had for Edward.

I opened the shower door and stepped in, enjoying the extra hot water against my skin. I closed my eyes and let the water flow over my hair and down my body. I heard what I assumed was both of the boys enter the shower, and then the door closed.

I opened my eyes and moved my arms around Edward's neck, bringing him close for a kiss. His hands went around my waist as he pulled my body into his with a grunt. His body was wet and slick and I wanted nothing more than to feel him inside of me, but this was hardly the place given my penchant for accidental self injury.

I slipped my tongue into Edward's mouth and he playfully nipped at it. I gave him a swat on the ass and heard Jasper laugh.

My swat only seemed to encourage Edward and he began trailing little nibbles down my jawline, neck and chest. He stopped briefly to take each nipple into his mouth and gently suck. Jasper moved behind me and once Edward's mouth left my breasts, Jasper's hands took over. Jasper was pinching and pulling, massaging my breasts as Edward continued nibbling his way down my body. The further he went, the more I leaned against Jasper, unable to hold myself up on my own. My head tilted back, pushing my breasts out further and I closed my eyes.

Edward's mouth reached the apex of my thighs and he swiped his tongue across my clit quickly.

"God, I have missed your taste, Bella."

He closed his mouth around me, sucking my clit between his lips, lowering to dart his tongue all the way into me. Thankfully Jasper was still supporting me with his arms beneath mine, as I bucked my hips against Edward's face. He continued to lick up and down the length of my slit, teasing me, before circling a finger around my opening.

"No teasing, Edward. Please."

It seemed to be all he needed and he began licking, sucking and finger fucking me with fervor.

"Oh God, Edward, don't stop. Please oh please, don't stop."

Jasper gave a hard tug on my nipples and I came quickly and intensely against Edward's mouth with a scream.

Edward slowly withdrew his finger from me, placing soft kisses all over my pussy before standing back up.

A few moments later, I stood up straight, finally able to do so on my own again. I was sure Edward was going to kiss me. Instead, he moved around me to kiss Jasper, who moaned at the contact. I saw Jasper's hand snake down to Edward's hard cock and he began to gently stroke him, Edward's hips thrusting gently.

I giggled and cleared my throat before speaking.

"Bedroom?"
---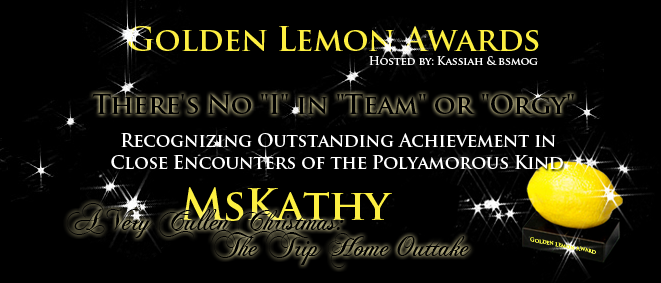 A Very Cullen Christmas: The Trip Home Outtake, Chapter 1 by MsKathy
"You are such a bad girl, aren't you, Bella? I can see it in your eyes. you can't wait for Jasper to fuck your tight ass while I slip into your wet pussy."

As I spoke, I dripped lube onto two of my fingers. I let it pool between my digits and then moved them to her body. I slipped my fingers between her cheeks and rubbed them up and down, slowly. I dripped more lube onto my fingers and held them at her opening, pressing only one forward slightly. Bella moaned and shifted her body, the tip of my finger moving in and out of her then. Once I was able to slide it all the way inside of her, I added the second finger and repeated the process. I wanted her to feel only pleasure from what we were about to do. I knew firsthand how painful it could be without proper preparation and care.

Once I was sure she was ready, I crawled onto the bed, leaning over her body. I alternated my kisses and licks on the way up between her legs and Jasper's. Once I got to her center, I gave a long lick up the length of her slit, enjoy her taste, letting it linger in my mouth before moving down again. I licked and nibbled on Jasper's balls and he let out a moan, bucking up into Bella's back.

"mmm, Bella, I can see from here just how hard Jasper is. He looks like he can't wait to slide into you. Are you ready for him to fuck your ass?" I whispered.

She looked near incoherent as I licked up her lips again, landing on her clit, sucking it into my mouth. I hummed as I pressed my lips at the top of her wet slit, causing her to buck against my face again.

"What's that, I couldn't quite hear you sweetheart." I reminded her that I was waiting for an answer.

"Yes, Edward, I'm ready."

"Ready for what, Bella? I want to hear you say it."

I buried my mouth in her pussy again, lapping at her. I could see Jasper's hands covering her breasts, teasing and pinching her nipples.

"I'm ready for Jasper to fuck my ass," she whispered. Now she's shy?

"Good girl. If you need us to stop, all you have to do is let me know and I will make sure we stop. We don't want to hurt our precious guest. Now, move up just a little."

Bella shifted her body up slightly and I saw Jasper move his right hand down. I met his hand with mine and coated his fingers with more lube. Both of our hands went to his length and rubbed the lube up and down, then guided him to Bella's ass. I could see her tense slightly as he teased her with the tip. I was glad I had given her a sense of control by placing her on top of him. Once she seemed to become comfortable, I saw her begin to move her body, taking more of him inside her. She let out a loud moan once it seemed like he was buried all the way, and they began to move together.

Holding myself above her body, I moved my mouth to her ear, kissing and nibbling as I whispered again. "Are you still okay, Love?" She nodded slightly, then turned to meet my gaze. Her lips sucked my lower lip between them, and then she kissed me with need and reassurance, small moans and whimpers exchanged between us.

I couldn't take it anymore, so I slid myself into Bella and was instantly rewarded. It was a sensation like nothing I have ever experienced before -- enjoying the moment with Bella, but feeling Jasper on the other side of her. We set a contradicting rhythm, Jasper thrusting in as I pulled out.

I leaned down to kiss Jasper, wanting to feel connected to him in the moment as well. Our heads were right next to Bella's, which had fallen back to rest on Jasper's shoulder, and I was sure she could see, hear and smell us now. Bella began to gasp, alternating between moans and screams.

"Harder, Jasper. Fuck me harder," she managed to whisper. I felt for the poor guy, stuck underneath both of us. I'm sure he was thankful for the excellent leg muscles he gained while playing soccer, as he began to pump into her faster and harder.

I could sense her orgasm was fast approaching, so I moved the hand that had been holding the lube bottle between our bodies and began to tease her clit, flicking it back and forth. She whimpered a little, turning her face towards us and joining our kiss, flicking her tongue out to lick whatever she could. She was squirming against us both now, letting out little whimpers periodically, letting them build louder and louder to a crescendo, until I could feel her coming around my cock.

I knew Jasper had to be as close as I was, so I continued fucking Bella, losing our established rhythm, in hopes that some of the movement was transferring down to him. I reached to tweak his nipple with my hand and was rewarded with a loud moan. Moments later, he uttered several profanities as I assumed he was coming.

A few thrusts later, I was licking and sucking Bella's neck as my own orgasm rocked through me, forcing me to pump harder, fucking her in shorter, faster strokes. Only then did I notice that Bella had her eyes closed and her body was slightly limp.

"Bella? Bella, are you alright?"

Oh, fuck. We literally fucked her to death.

I moved up and off her, motioning for Jasper to do the same and I felt for a pulse. Okay, she has a pulse, that's a good sign. I put my head on her chest and could hear her breathing okay.

"She must've blacked out," I told Jasper.

A few minutes later, she came around and woke up. I think Jasper and I both took our first full breath in a while then.

"Bella, do you feel okay? We were so worried." I looked at her closely and stroked her cheek with the back of my hand.

"Yeah, I think I'm fine. I just held my breath there for a little too long, I guess. I just couldn't force myself to breathe, it was too much all at once."

I began to place soft kisses on her face as I explained to her that she was out for about five minutes.

"Really, I'm okay. It happens sometimes. Kind of goes hand-in-hand with the clumsy gene. I am a walking mess, I suppose."

She was blushing the most beautiful shade of pink and I felt the need to reassure her. Jasper moved to stroke her face and neck on one side and I laid on the other, giving her more soft kisses, whispering in her ear.

"You had us worried. We can't have fun if we're going to hurt you. I thought I explained that?" I teased as my eyelashes fluttered against her neck.

---
The Trip Home Prequels, Chapter 2 by MsKathy
"Lay down," he said softly.

I opened my eyes to watch him as he took his clothing off, keeping his eyes trained on my body the entire time. My hand was lazily stroking myself as the last of his clothing hit the ground. Jasper crawled onto the bed next to me and took his time touching me everywhere. I tried to relax, letting my muscles loosen under his actions.

A soft sigh escaped my lips as he finally brought his back to mine and we kissed languidly for several minutes. I could feel his hardness against my thigh and I was eager to get things moving. I had no idea how to proceed, however.

"Jasper?"

Certain he could see the pleading in my eyes, I lifted my hips for extra emphasis. He chuckled and smiled at me.

"Patience, Edward. I don't want to hurt you. I'm going to take things extra slow and gentle."

There was a sweet, teasing quality to his voice, and it just made me want him even more. Once he was back to touching my legs, I saw him grab a bottle of clear liquid and open the cap. I watched between my calves as he poured the lube onto his fingers, rubbing them together carefully to warm it, and then reached out and touched me. He didn't go straight in for the kill, so to speak – he ran his fingertips up and down the length of my shaft, teasing me and sending me back to a place of bliss.

Now and then, his fingers would move lower, teasing me even further. He played my body perfectly, adding more of the slick lubricant as needed, which I knew only from the coolness against my skin and increased slippery feeling of his fingers. Eventually, he worked the tip of a finger inside of me. I was unsure, nervous, and he kept the right pace, using one hand to stroke me slowly and carefully as his other pressed the single finger further inside.

I watched as he added a second finger, again with careful precision and practice, watching the bottle drip slowly from his other hand. There was something entirely erotic about watching both of his fingers dip in and pull back out of my body, and once I relaxed and let go, the experience was pleasurable beyond what I had imagined, especially when I felt him rubbing softly over my prostate. The way his fingers slid across it, rubbing and stimulating, but not directly pressing, was driving me crazy.

Jasper reached to our side and grabbed a condom that I hadn't even seen. I sat up fairly quickly and snatched it from his hand, ripping it open. I figured out which side was up, then carefully rolled it down Jasper's waiting cock. Leaning forward a little more, I kissed him hungrily, ready to take this next step together.

Laying back down, I smiled at him and he smiled back. Even I had enough common sense to know that two fingers wasn't the head of his dick, but he had been true to his word, taking things slowly, and I had no reason to believe this would be any different. He poised his body over mine, then shifted his hand back lower on my body. He teased me again with his fingers, reminding my body of their previous acceptance of him, and then slowly guided himself to me. Jasper took his time rubbing the slippery tip of his erection over and around, pressing gently periodically and then returning to rubbing. He was working me into a frantic frenzy of need and want, and I was ready to press my body lower and just take him, but I wanted to move at his pace.

Finally, blissfully, he pressed the tip forward and into me, and it did hurt to begin with. I took a deep breath and attempted to relax my muscles again as he pulled back out. He repeated this movement, going mind-numbingly slowly forward each time, until he was able to pick up his pace and move deeper inside of me each time. I was aware of my body reacting, my vocal chords straining and making noise, but nothing seemed to exist in that space except for Jasper's body and mine.

Before I had time to think about touching myself, or asking Jasper to touch me, he was coming loudly. He was buried entirely inside of me and it made my own cock throb to think about what he was doing. As he pulled out of me, making sure to keep the condom on, and then dispose of it properly, I wondered if he was going to let me reciprocate the action.

We laid together on the bed and after a few minutes, I pressed myself against Jasper's body. I wanted to give him time to get used to the idea before I spoke the words out loud, if I could even bring myself to. He moaned into my mouth, which I took as a sign to proceed.

"Jasper, I want you to..." I stopped, needing to think about how I wanted to phrase it. I decided to just man up and say it. "Get on your knees."

He chuckled lightly, but complied. I picked up the small bottle and poured some of the lube onto my fingers. I began to tease him as he teased me, spreading the wetness around. I felt and heard him moan, his body pressing back against my hand. I pressed my fingertip in experimentally and he got louder, pushing back, and taking in more than just my fingertip. I raised an eyebrow, but went with it. As more of the cool liquid dripped from my other hand onto where our skin met, I added another finger.

"Edward," he moaned. "More, please."

"I'm just trying to be gentle, like you were. I don't want to hurt you," I explained. I understood the biology of the body parts we were playing with, so I knew the importance of warm-up at least.

"Fuck, this isn't how I wanted to have this conversation Edward, but this isn't my first time. Please," he begged. "Put on a condom and fuck me."

I was too horny to question, to be more curious, so I did as he asked. I unwrapped the condom, slid it down myself and positioned my cock at his opening. I still took my time getting him used to my body; he was Jasper, and I cared for him greatly (loved him, maybe?), and I would never want to cause him unnecessary pain.

Once he was showing no signs of being in pain, and every sign I knew of his pleasure hitting higher and higher, I began to thrust slightly faster. I was pulling out almost entirely and pushing back in as deep as I could each time, both of us panting and groaning. Jasper's head was turned to the side, his cheek resting on his arms as he willingly offered up his body for my pleasure, and I took it greedily.

My hands were on his hips, steadying myself, and helping to guide him as I wanted. I flexed back and forth, feeling my orgasm building from my toes. My knees were aching, breath escaping my lungs in short bursts, and my whole body began to tingle and cry out as I thrust into him faster. I shifted my right hand to Jasper's cock and began to stroke him in time with my thrusts.

"Jasper, fuck, I want you to come with me," I panted out.

A long, loud, low groan came from his body, and I felt him stiffen in front me. As his muscles contracted, I cried out. Even through the thickness of the condom, I could feel him around me and it was one of the best sensations I'd ever felt. I stilled, wanting to absorb every last moment of his body's reaction around mine, and came harder than I could remember ever coming before.

As I pulled back and out of his body, he groaned again, though time it was softer and more quiet. I moved my hand to his back, stroking over his body. I felt so close to him in that moment, so much love. I had no idea if it was romantic love, life-long partner love, or just love in gratitude for sharing the experience with me.